Avon Promotions - October 2018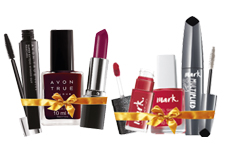 Choose your collection:
Collection 1:
Avon True Color Super Extend Winged Out Mascara
7 g
Blackest Black 67349
Regular Price R129.90*
Avon True Colour Nailwear Pro+ Nail Enamel
10 ml
Tweed 03954
Regular Price R109.90*
Avon True Colour Lipstick
Oxford Wine 61826
Regular Price R139.90*
ORDER OFFER ON CODE 30357
Collection 2:
Mark Liquid Lip Lacquer Matte
7 ml
Irresistible 29486
Regular Price R199.90*
Mark Gel Shine Nail Enamel
10 ml
Roses Are Red 63818
Regular Price R119.90*
Mark Big & Multiplied Mascara
10 ml
Black 65109
Regular Price R159.90*
ORDER OFFER ON CODE 30359
All 3 for R139* with every R150 you spend across the brochure
Save up to 70%
*Excluded from spend.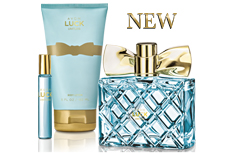 Live a life of Limitless Glamour.
Capture the essence of your glamour with a lavish infusion of warm spices and vibrant florals, deepened by a rare diamond amber accord to create a luxurious, lasting scent.
Fruity floral scent.
Luck Limitless for Her Purse Spray
10 ml 69650
Regular Price R130
Luck Limitless for Her Body Lotion 
150 ml 19551
Regular Price R75.90
Luck Limitless for Her Eau de Parfum
50 ml 19395
Regular Price R419
R249
All 3 for R299
Order offer on code 33014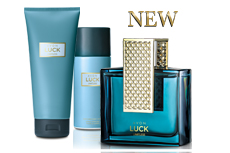 Live a life of Limitless Sophistication.
Make your presence felt with crisp citrus and spicy pepper notes, touched by a masculine aromatic freshness before ending on a smooth, sensual finish of amber woods.
Fougère ambery scent.
Luck Limitless for Him Hair and Body Wash 
200 ml 18976
Regular Price R75.90
Luck Limitless for Him Deodorant Body Spray
150 ml 21671
Regular Price R61
Luck Limitless for Him Eau de Toilette
75 ml 19632
Regular Price R419
All 3 for R299
Order offer on code 34060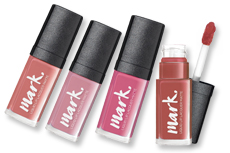 Make a statement with on-trend nude lips. Goes on liquid sets 100% matte.
Mark Liquid Lip Lacquer Matte
7 ml
Regular Price R199.90 each
Head Turner 29344
TKO 29520
Plump up the Jam 65341
Nude Vibes 31710
Naked Crush 34047
Downtown Edge 31739
Rosy Flush 31734
Flushed 29345
Orange You Happy 29507
Maneater 29491
Fabulosity 29775
Passion It 29527
Whipped Latte 67884
Pinking About You 28989
Dare To Bare 29020
R89.90 each
Save 55%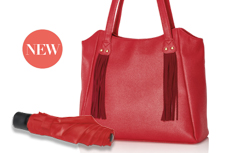 Summer arrivals. The Showstopping Kylie Collection.
Kylie Handbag
Red, faux-leather handbag with top zip closure and flat handles. Features gold-toned studs and faux-suede tassel detail.
31 cm x 10.5 cm x 25.5 cm
11418
Regular Price R399
R299
Save R100
Kylie Umbrella
Foldable red umbrella with
black handle.
Closed: 23.5 cm x 4.5 cm
Open: Bucket 94.5 cm diameter
Handle: 54.5 cm
11467
Regular Price R199
R129
Save R70
All limited edition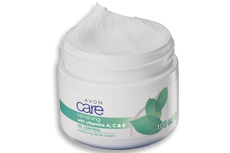 Avon Care vanishing cream for up to 8 hours of shine-free skin*
• Reduces shine
• Perfect base for make-up
• Moisturises and nourishes
• Absorbs quickly
• Lightweight
Vanishing Mattifying Facial Cream
100 ml 47893
Regular Price R50
1 for R27, 2 for R47
Save up to 50%
*Based on a consumer study.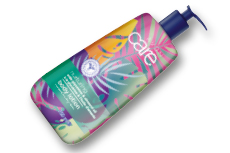 Avon Care
XXL
Suitable for the whole family
Moisturises skin for 24 hours*
Leaves skin looking soft & supple without feeling greasy
Avon Care Nurturing Body Lotion
With glycerine & almond oil  known  to  help lock  in  skin's moisture
750 ml 65033
Regular Price R105
Only R79
Save over 20%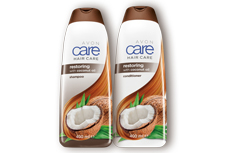 Avon Care's 1st ever shampoo & conditioner suitable for the whole family
Enriched with the HAIR-STRENGTHENING, SHINE-BOOSTING, SCALP-CONDITIONING
power of COCONUT OIL.
Restoring Coconut Oil Shampoo
400 ml 38810
Regular Price R49.90
Restoring Coconut Oil Conditioner
400 ml 69563
Regular Price R49.90
R44.90 each
Both for R79
Order offer on code 23191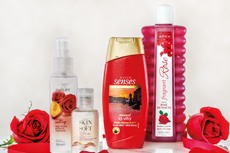 Enjoy an indulgent summer with a tantalising pamper pack
Red Rose & Peach Scented Spritz
100 ml 19149
Regular Price R52.90
R36.90
Silky MoistureTissue Oil
50 ml 92551
Regular Price R69.90
R54.90
Avon Senses Sensual La Vita Shower Crème
250 ml 42683
Regular Price R52.90
R36.90
Fragrant Rose Bubble Bath
500 ml 29757
Regular Price R53.90
R38.90
All 4 for R149
Order offer on code 30865
Avon offers Representatives a fantastic earnings opportunity. You may think that you do not have the skills, money or knowledge to start your own business, let me prove you wrong! Join Avon today!