Avon Promotions - May 2017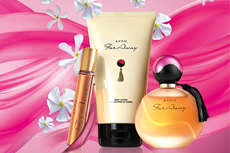 Far Away - get lost in a dream.
Find your dreamy escape with a sweet, floral,  rich scent.
Far Away Body Lotion
150 ml   (PC) 93396
Regular Price R71.90
Far Away Eau de Parfum Spray
50 ml  (PC) 34644
Regular Price R380
R199
Far Away Purse Spray
10 ml   (PC) 92053
Regular Price R115
All 3 for only R259
Order offer on code  (PC) 33050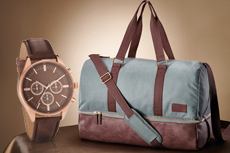 At-home pampering  treats
Heel Rasper & Foot File
(PC) 26106
Regular Price R84.90
R44.90
Gel Pads Set
6 pieces  (PC) 46200
Regular Price R89
R69.90
Double Action Exfoliating Moisturiser
50 ml  (PC) 63476
Regular Price R69
R39.90
Rough Skin Remover
75 ml  (PC) 82125
Regular Price R69
R39.90
Intensive Callus and Corn Cream
75 ml  (PC) 63055
Regular Price R69
R39.90
3-in-1 Lavender Oil
50 ml  (PC) 11060
Regular Price R69
R44.90
Overnight Lavender Treatment
150 ml  (PC) 63354
Regular Price R66.90
R44.90
Odour Neutralising Foot and Shoe Spray
75 ml   (PC) 10852
Regular Price R74.00
R44.90
Deodorising Foot and Shoe Powder
75 g   (PC)14110
Regular Price R79
R59.90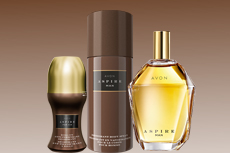 Complete his look by giving Dad a winning fashion combo with the Michael Watch & Duffel Bag that will stylishly set him apart from the rest.
Michael Watch
Blue faux-leather strap and classic, silver-toned face.
Watch length: 24.5 cm
Face: 4 cm diameter
(PC) 85451
Regular Price R399
R329
Michael Duffel Bag
Durable canvas duffel bag with navy and burgundy design, closes with a zip. Features 2 handles, and
1 longer shoulder strap.
44.5 cm x 26 cm x 26 cm
(PC) 59326
Regular Price R359
R329
Both for only R459
Order offer on code (PC) 30867
All limited edition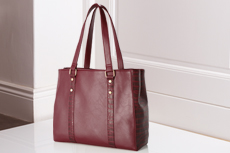 Introducing NEW AVON BLACK SUEDE NIGHT.
A sophisticated scent for the MYSTERIOUS MAN. An ultra-sophisticated scent with intriguing top notes of bergamot and aromatic basil merge with mysterious cardamom and end on an unforgettable, sensual note of black amber.
Black Suede Night Hair and Body Wash     
250 ml  (PC) 05052
Regular Price R71.90       
Black Suede Night Deodorant Body Spray
150 ml  (PC) 05121
Regular Price R60
Black Suede Night Eau de Toilette Spray
75 ml  (PC) 72255
Regular Price R270
R199
All 3 for R239
Order offer on code  (PC) 23057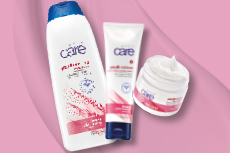 A trademark trio for him.
Make three his lucky number with this bold silver-and black-toned men's ring, necklace and bracelet.
Michael Men's 3-Piece Gift Set
A modern, silver-toned set with
black dotted line details.
Ring: Size 12 (2.1 cm diameter)
Bracelet: 21 cm
Necklace: 77 cm (continuous chain)
(PC) 65331
Regular Price R329
Men's 3-Piece Gift Set for only R249
Save R80
All limited edition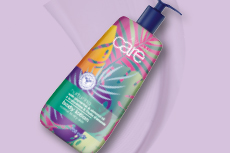 Discover your perfect format with cream to powder.
Coverage of a foundation with a powder-light finish
Medium to full coverage
Helps even out skin tone
Avon True Color Cream-to-Powder Foundation SPF 15
9 g
Regular Price R179.90 each
Nude  (PC) 29214
Creamy Natural (PC) 30454
Natural Beige  (PC) 29207
Medium Beige  (PC) 29208
Honey Beige  (PC) 12296
Light Caramel  (PC) 38763
Caramel  (PC) 30455
Soft Honey  (PC) 38209
Amaretto  (PC) 30477
Walnut  (PC) 14267
Spice  (PC) 38433
Nutmeg  (PC) 30456
Make the switch R119.90 each
Save over 30%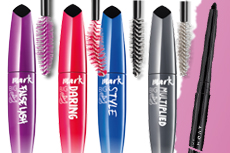 Treat him to the multi-tool to make Dad the ultimate handyman.
Men's Multi-Tool
A black, stainless steel multi-tool with
9 different features, namely: an adjustable spanner, knife, Phillips screwdriver,
ruler (cm), saw, file, small and large flat screwdriver and bottle openers. The features are compact so the product can be stored easily. Comes in a polyester pouch.
Size: 15 cm x 4 cm x 1.8 cm
(PC) 90566
Regular Price R269
Includes pouch with belt attachment
Limited edition
Only R219
Save R50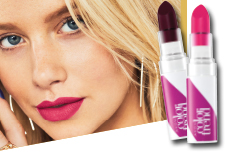 Miracle Glow Lightweight Facial Oil
For all skin types including sensitive skin and oily skin.
30 ml  (PC) 30580
Regular Price R199*
Just 3 drops for a youthful, radiant glow**
Miracle Glow Facial Oil only R79* with every R129 you spend across pages 98 – 103
*Excluded from spend.
**Based on a consumer study.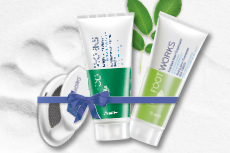 The New Phoenix Handbag.
The 1st piece in our 3-piece collection.
Phoenix Handbag
Faux-leather handbag with gold-toned buckles. Closes with a zip and includes 1 inner-zipped and 2 unzipped compartments.
33 cm x 12.3 cm x 31 cm
(PC) 57857
Regular Price R399
Only R299
Save R100
Limited edition
Complement the Phoenix Handbag with the Wallet in June and Weekender in July.
Avon offers Representatives a fantastic earnings opportunity. You may think that you do not have the skills, money or knowledge to start your own business, let me prove you wrong! Join Avon today!