Avon Promotions - November 2018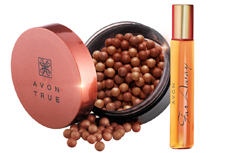 Gifts to feel Golden
Avon True Glow Bronzing Pearls 
22 g
Warm Glow 71390
Deep Bronze 71657
Regular Price R179.90 each
Far Away Purse Spray   
Turn heads with an opulent scent suited for your handbag.
10 ml 60377
Regular Price R130
Rose Gold Gift Bag
Limited edition
16 cm x 8 cm x 22 cm
94577
Regular Price R30
GIFT BAG ONLY R9 when you buy Bronzing Pearls plus Purse Spray Both for R159.90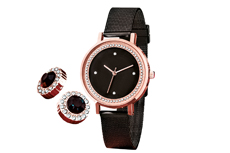 Gifts to impress
Cassie Ladies' Mesh Watch and Earring Gift Set
Earrings: Circular, diamanté-encrusted
earrings with black stone.
Watch: Mesh strap with a black face featuring a diamanté-encrusted surround and rose-gold toned case.
Face: 3.1 cm diameter
Strap length: 23 cm
Earrings: 1 cm diameter
09656
Regular Price R449
NEW limited edition
Comes in a giftable box
Only R399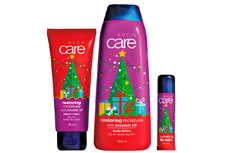 Gifts for a caring touch
Give the gift of care with skin-nourishing must-haves.
Avon Care Restoring Moisture Coconut Oil Hand Cream
75 ml 65046
Regular Price R35
Avon Care Restoring Moisture Coconut Oil Body Lotion
400 ml 59249
Regular Price R70
Avon Care Hydrating Lip Balm
4.5 g 64480
Regular Price R30
NEW limited edition
All 3 for R65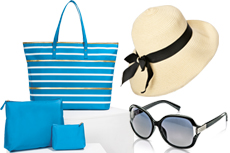 Summer Style Guide
Dehlia Tote
Blue with white and gold stripe microfibre tote featuring gold-toned studs and 2 removable pouches.
Big bag: 41.3 cm x 16.5 cm x 34.5 cm
Medium bag: 26 cm x 7.5 cm x 19 cm
Small bag: 12.7 cm x 3.7 cm x 9.3 cm
11621
Regular Price R489
R389
Dehlia Sarong
Sheer chiffon material. Blue, white and salmon multi way sarong. 100% polyester.
180 cm x 100 cm
11625
Regular Price R299
R199
Dehlia Hat
Round woven hat with black fabric bow tie around the crown.
37 cm x 37 cm x 13 cm
11626
Regular Price R269
R169
Dehlia Sunglasses
Black framed sunglasses with diamanté and silver-toned temple detail and sheer lenses. European standard UV protection.
Lycra pouch included.
11468
Regular Price R199
R119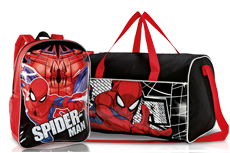 Give the gift of fun backpacks
Spiderman Backpack
Marvel character backpack with zip detail, comfortable shoulder straps and mesh pocket.
26 cm x 10 cm x 35 cm
65596
Regular Price R199
R169
Save R30
Spiderman Duffel Bag
Trendy, character boys tog bag with comfortable shoulder straps and easy-to-clean material.
35 cm x 19 cm x 22 cm
65587
Regular Price R329
R259
Save R70
Limited edition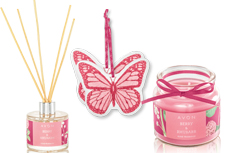 Avon's 1st scent collection for your home.
Berry & Rhubarb Diffuser
Add an inviting fragrance to any room by using wooden reeds to release a berry and rhubarb scent into the air.
Regular Price R169
Berry & Rhubarb Hanging Freshener
Use these beautiful butterfly-shaped air fresheners for your room, car or linen drawers.
Regular Price R69
Berry & Rhubarb Jar Candle
Decorate any living space with a berry and rhubarb scented candle in a jar.
Regular Price R149
NEW limited edition
All 3 for R199
Order offer on code 20933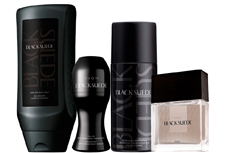 Indulge him with a refined scent.
Spoil him with a classic blend of woods and greens made irresistible with the modern scent of leather.
Black Suede Hair and Body Wash
250 ml 06230
Regular Price R75.90
Black Suede Roll-On Anti-Perspirant Deodorant
50 ml 12812
Regular Price R34
Black Suede Deodorant Body Spray
150 ml 89848
Regular Price R61
Black Suede Eau de Toilette
30 ml 55121
Regular Price R235
Special price R149
All 4 for R209 plus Free Gift Bag
Order offer on code 23202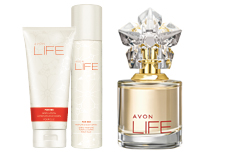 Introducing Avon Life for Her by Kenzo Takada Exclusively for Avon
Avon Life for Her Eau de Parfum
50 ml 07549
Regular Price R500
Avon Life for Her Body Lotion
150 ml 08070
Regular Price R75.90
R42.90
Avon Life for Her Perfumed Body Spray
75 ml 08433
Regular Price R61
R39
FREE GIFT BAG when you buy Avon Life for Her EDP for R329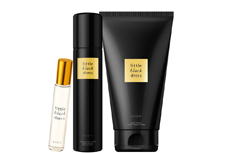 Spoil her with a classic trio.
With notes of honeysuckle, sandalwood and cashmere musk.
Little Black Dress Purse Spray   
10 ml 71842
Regular Price R130
Little Black Dress Perfumed Body Spray
75 ml 70300
Regular Price R61
Little Black Dress Body Lotion
150 ml 54308
Regular Price R75.90
All 3 for R119.90
Order offer on code 30864
Avon offers Representatives a fantastic earnings opportunity. You may think that you do not have the skills, money or knowledge to start your own business, let me prove you wrong! Join Avon today!