Avon Promotions - March 2018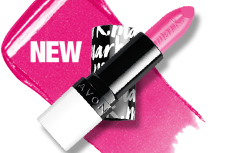 NEW Epic Lipstick. Go epic on impact! Set the trend! Extreme  colour + built-in primer. Unique tapered tip. 26 head-turning colours.
Avon Mark Epic Lipstick
Regular Price R154.90 each
Be Loud 23070, Fearless Fuchsia 24415, Extreme Mauve 20656, Pink Punch 24481, Luv U 24483, Rosy Outlook 20327, Blushing Beauty 20564, Sugar Rush 61636, Heartbreaker 21106, Berry Bold 20657, Red Extreme 22192, Coral Burst 23056, Mermaid Tale 24818, Blue Suede 23582, Wave Runner 25265, Grey Matters 25868, Spellbound 23117, Sweet Taffy 20580, Gypsy 23119, Enchanted 25956, Sangria Shock 22332, Dare to Wear 22707, Temptress 22869, Chocolate Treat 24532, Get Bronzed 22315, Street Style 20572
               
BUY 1 for R79.90 or ANY 2 for R139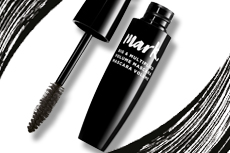 Amplify your lash drama with BIG & multiplied.
Up to 64% more lash Look*
Mark Big & Multiplied Volume Mascara
Blackest Black 97067
10 ml 
Regular Price R144.90**
For only R49** with every R100 you spend across pages 3-11
*Based on a clinical study. 
**Excluded from spend.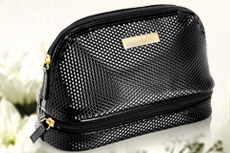 The NEW Luxurious Bianca Pouch
Gold-toned, soft, satin lining
Underside zip for extra storage
Perfectly sized for all your essentials
Bianca Cosmetic Pouch
Black patent cosmetic pouch with gold-toned detail, featuring a bottom zipped compartment.
22 cm x 9.5 cm x 15.5 cm
32366
Regular Price R199*
Only R119* with every R180 you spend across the brochure
Save R80
*Excluded from spend.
Limited edition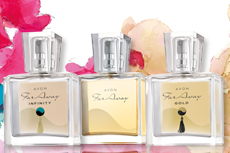 Far Away
The Showstopper. Show your true individuality with the Far Away Collection, uniquely exotic and captivating scents that leave a lasting impression. Create your fragrance wardrobe. Stunningly Exotic.
Far Away Infinity Eau de Parfum Spray 
30 ml 18041
Regular Price R230
Far Away Eau de Parfum Spray
30 ml 62055
Regular Price R230
Far Away Gold Eau de Parfum Spray
30 ml 11866
Regular Price R230
1 for R119, any 2 for R209
Please remember to indicate your choice of products on your order form.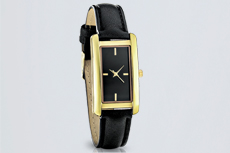 The dainty strap watch.
Sarah Watch
Classic ladies' watch with  black face, black faux-leather strap and gold-toned surround.
Strap length: 24 cm
Face: 4 cm x 2.3 cm 
78284
Regular Price R299
R239
Save R60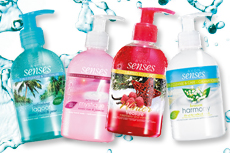 Must have beauty buys. Liquid hand soaps to cleanse &  soften hands.
Daily Hand Washes
Refreshing Lagoon 10440
Sensual Mystique 07813
Winter Treasure Limited edition 55176 
Heaven Harmony 06828
250 ml 
Regular Price R54.90* each
Only R16.90* each with every R50 spent across pages 160-181
*Excluded from spend.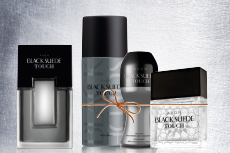 A  touch of masculine charm. Complement his relaxed persona with an irresistible blend of aromatic black pepper and cashmere woods that contrast with modern notes of leather.
Black Suede Touch Eau de Toilette Spray
75 ml 53029
Regular Price R280
Black Suede Touch Body Spray
150 ml 90624
Regular Price R61
Black Suede Touch Roll-On Anti-Perspirant Deodorant
50 ml 90623
Regular Price R33
Black Suede Touch Eau de Toilette Spray
30 ml 23257
Regular Price R230
BUY the EDT for R259 and get 30 ml EDT, Body Spray & Roll-On FREE
Save R345
Your free products will automatically be included with your order.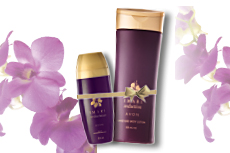 Captivate with an alluring duo
Imari Seduction Roll-On Anti-Perspirant Deodorant
40 ml 50192
Regular Price R33
Imari Seduction Hand and Body Lotion
150 ml 50193
Regular Price R75
Both for R59.90
Save R48.10
Order offer on code 20934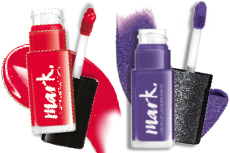 Go gloss - never dull your shine. High pigment: Vibrant colour in 1 swipe.
Mark Liquid Lip Lacquer Shine 
7 ml
Regular Price R199.90 each
Mauve Over 38302, Dark & Stormy 38294, Pouty 38242, Blushing 37611, It Girl 37624, Caffeined 37401, Love Bites 37621, Love Spell 38502, Nuditude 37400, Laquered Up 37060
Go matte - set the lip trend. Precison sculpting brush: Ultimate definition.
Mark Liquid Lip Lacquer Matte
7 ml
Regular Price R199.90 each
Plump Up Jam 65341, Fabulosity 29775, Maneater 29491, Orange You Happy 29507, Head Turner 29344, Irresistable 29486,
TKO 29520, Pinking About You 28989, Dare To Bare 29020, Whipped Latte 67884, Passion It 29527, Flushed 29345
ONLY R84.90 each
Save over 55%
Avon offers Representatives a fantastic earnings opportunity. You may think that you do not have the skills, money or knowledge to start your own business, let me prove you wrong! Join Avon today!